5 players ruined by FC Barcelona
FC Barcelona have a stellar reputation as one of the greatest clubs in the world. Of course, a huge chunk of credit goes to the phenomenal players who have played for the club, but La Masia, the famous youth academy of Barca, deserves a worthy mention for the world-class talent it has churned out in the recent years.
Messi, Xavi, Pique, Iniesta, Puyol and many more– the academy has gifted the football world with some of the best we have seen and we can never thank it enough.
But even though La Blaugrana have created legends, the club has also witnessed some ships being wrecked at the Nou Camp. Not every player or youngster has made it to the first team due to the world-class talent that Barca have had at their disposal in the recent years.
Let's have a look at five of these players who were ruined by the club.
#5 Dmytro Chygrynskiy
The 2008-09 season was probably one of the greatest seasons Barca have ever played. Standing with the treble in hand at the end of the campaign, the Barca board were bound to give Pep Guardiola a good transfer kitty for summer shopping.
Everyone remembers how Zlatan Ibrahimovic arrived at the Nou Camp that year and had a total fiasco of a season before departing the club. Another player who made his way to Barca was Dymytro Chygrynskiy, a £20 million signing from Shakhtar Donetsk as the club's most expensive defender back then.
The Ukranian, however, failed to make his mark owing to the sturdy partnership of Puyol and Pique, garnering only 851 minutes under his belt during his tenure at the Nou Camp.
READ; World class players who flopped in the Premier League – ranked

Tino Livramento: Things to know about the highly rated right-back
Guardiola was reluctant to sell him, viewing him as a long-term prospect. But president Joan Laporta initiated his sale back to Shakhtar in lieu of £15 million, in order to aid the ailing financial conditions of the club back then.
The Ukranian was never able to play again for a club of the stature of Barcelona and currently plies his trade at AEK Athens in Greece.
#4 Alen Halilovic
Signed in May 2014 for a minimal fee of €2.2 million, 18-year-old Alen Halilovic was the subject of gossip, thanks to his silky dribbling abilities and garnered comparisons to Lionel Messi. He was expected to carry on the tradition as Barca's talisman in the future but sadly left the club after two years in 2016.
A wide attacking midfielder, the Croatian prodigy found himself miles behind the MSN trio, who were wreaking havoc in Europe at the time. In order to grant him playing time, Barca loaned him out to Sporting Gijon for a season. The following year, Luis Enrique deemed it fit to sell him to Hamburg.
The player, who once showed promise and flashes of his exciting talent, is currently playing at Las Palmas on loan from Hamburg aged 21. Barca had inserted a buy-back clause in his transfer deal but they look far from activating it in the near future.
#3 Marc Muniesa
Marc Muniesa is one of Barcelona's own youth talents; a player who emerged through the La Masia and made it to the first team in 2009. However, the lack of playing time in his four-year spell with the club robbed the Spaniard a deserved chance to shine and showcase his abilities.
Marc Muniesa was able to make only four appearances for the first team in four years– a saddening stat. With a sturdy defence that featured the likes of Puyol, Alves, Alba and Pique, he found himself mostly on the fringes at Nou Camp.
Later in 2013, he joined Stoke City and seems to have spiralled down further, playing on loan at Girona FC. He deserved better, don't you think?
#2 Ibrahim Afellay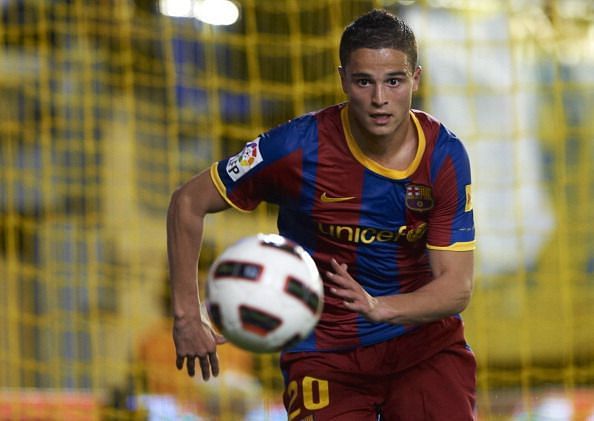 When he arrived at Barcelona in 2011, Ibrahim Afellay was one of the most promising prospects who had emerged out of the Netherlands with PSV Eindhoven. However, the player's career went down the wrong path as he managed to get only 35 appearances for the club in his four-year tenure at the club, scoring only twice!
On top of that, he also served dismal loan spells at Schalke and Olympiakos. With Barcelona signing Neymar and Suarez during his loan spells with the aforementioned clubs, the Dutchman stood no chance of becoming a regular ahead of the two giants. As a result, he left for Stoke City on a free in 2015 and has been there ever since.
Had he been given a chance, there's no doubt Ibrahim Afellay would have made the most of it.
#1 Bojan Krkic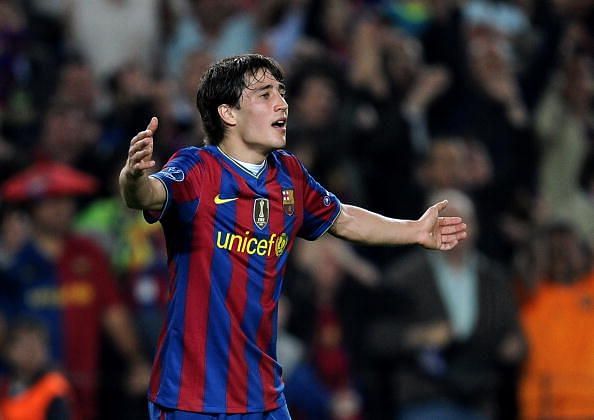 Bojan Krkic was hailed as a treasure by Frank Rijkaard and compared to Lionel Messi by a host of others. That had to happen, seeing how he broke the Argentinan's records as the youngest Barcelona player to make a debut with the first team and then scoring as well. However, little would have he expected his sailing ship to wreck in no time.
In the 2007-08 season under Frank Rijkaard, the youngster recorded 12 goals and 6 assists in 48 appearances. Those numbers are really impressive, considering he was just a 17-year-old and representing one of the giants in world football.
However, fortunes took a turn for the worse when Pep Guardiola replaced Frank Rijkaard as the steward of the club. Bojan displayed his reluctance in joining the Barca B team after getting a taste of first-team football. As a result, his relationship with Guardiola started deteriorating and the number of minutes he got to play dwindled as well.
Finally, the youngster left for Roma in 2011. He did return at the start of season 2013-14, but failed to make an impact and was loaned out to Ajax. Currently, he lies forgotten, serving a loan spell at Deportivo Alaves from Stoke City.