Crystal Palace have confirmed Patrick Vieira as the club's new manager on a three-year deal that will take the Arsenal Legend through to 2024 at Selhurst Park.
BOSSVIBE brings you seven reasons why Patrick Vieira will always be an Arsenal legend.
The 45-year-old, who began his coaching career with New York City FC in Major League Soccer, takes charge for the first time in the Premier League, having made his name as one of the game's greatest midfielders during a decade-long spell with Arsenal.
On August 14, 1996, Arsenal confirmed the signing of Patrick Vieira from AC Milan. Vieira went on to enjoy a nine-year spell with the Gunners, making 406 appearances under Wenger that saw him crowned a Premier League champion on three occasions and an FA Cup winner four times.
Here are just seven reasons why he'll always be a legend at Arsenal
Captain Fantastic
In August 2002, Tony 'Mr Arsenal' Adams retired from football following a long and distinguished career at the club. It left an opening for a new ambitious leader to take his place as captain of the football club, and there was only one candidate – Vieira.
Vieira took the Gunners to new heights under his guidance, including a whole season unbeaten. The success of Vieira as captain – and Adams before him – is perhaps best underlined by Arsenal's failure to find an adequate replacement as leader since his departure from the club.
Big names such as Thierry Henry, Cesc Fabregas, William Gallas and Robin van Persie have all tried, but none have come close to matching Vieira.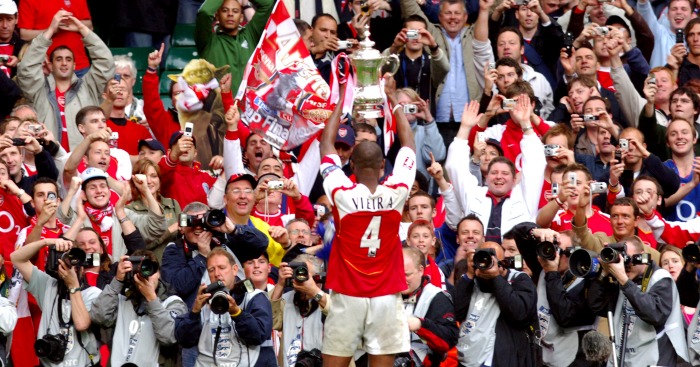 Man Utd goal
In his first full season as manager, Arsene Wenger guided Arsenal to their first league title since 1991 and their maiden Premier League triumph.
It was only the second time that Manchester United had been knocked off top spot in the Premier League era – and Vieira played a key part in the triumph.
The Gunners defeated Sir Alex Ferguson's men 3-2 partway through the campaign thanks to a late David Platt header, but Vieira's brilliant 27th-minute strike to make it 2-0 was just as crucial.
It was the result that showed the footballing world the Gunners were ready to turn from pretenders into challengers.
Battles with Roy Keane
If you think about Roy Keane's career you will inevitably have thoughts of Patrick Vieira and vice versa. There were plenty of feisty moments between the two on and off the field during a period of nine years during which Arsenal and United dominated English football.
Their most infamous clash came in the tunnel ahead of United's 4-2 win at Highbury in February 2005 where almost all of the verbal spat was picked up on camera.
Keane was heard saying: "If you love Senegal so much, why don't you go play for them?" as Graham Poll bravely stood in between the pair.
The Arsenal-Man Utd rivalry was so good back then.
Double Double
During  Vieira's time at Highbury, the Gunners won two doubles in 1998 and 2002.
The additions of Emmanuel Petit, Marc Overmars and Nicolas Anelka helped as Arsenal edged out United in the race for the title in 1998, before downing Newcastle United 2-0 in the FA Cup final at Wembley.
It was a slightly different story in 2002 as they romped to the Premier League title, finishing seven points clear of second-placed Liverpool and 10 points ahead of United, the defending champions.
Ray Parlour and Freddie Ljungberg scored in their 2-0 win over Chelsea in the FA Cup final to complete Vieira's double double.
What a player
Vieira was undoubtedly tough and an outstanding leader, but it should never be forgotten what a bloody brilliant footballer he was too.
His old adversary Keane summed it best: "Without doubt I'd put him alongside (Zinedine) Zidane, (Paul) Scholes, (Steven) Gerrard and (Frank) Lampard as one of the very best I've ever played with or against, he was that good.
The Invincibles season
One of the most remarkable stories in the Premier League's 25-year history is the tale of Arsenal's incredible unbeaten run on the way to the title.
The Gunners 2003-04 season stats read like this: played 38, won 26, drawn 12, lost none. An incredible record in any league around the world, but an all the more impressive achievement as a Premier League side.
Vieira featured in 29 of those matches and scored two crucial goals against Chelsea and Tottenham.
In fact, his opening goal after three minutes contributed to 2-2 draw against Spurs which saw them win the title at White Hart Lane – to the delight of the Gunners faithful.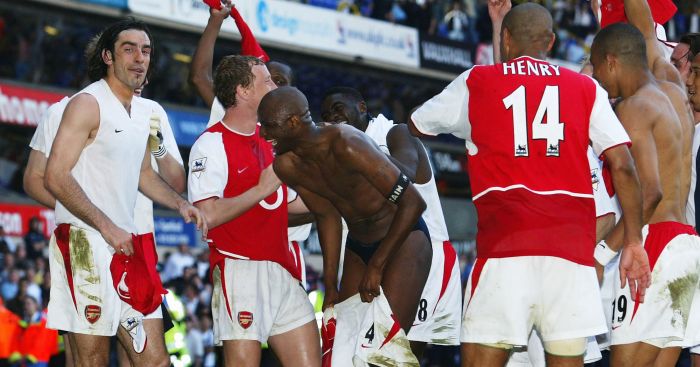 Last kick
If you could script your farewell appearance as a footballer, Vieira's final match for Arsenal is almost as good as it gets. It came in the 2005 FA Cup final against arch-rivals Manchester United.
Despite being outplayed for most of the match, the Gunners found the strength to become the first team to win an FA Cup final on penalties.
With all players except for United midfielder Paul Scholes scoring their penalties, it was down to Vieira to land the knock-out blow. He duly converted with a well-placed finish to mark his last kick for Arsenal with silverware. Vieira will always be an Arsenal legend!