In addition to all of the speculation about Chelsea's transfer targets and final team for the season, Thomas Tuchel's tactical intentions have gotten a lot of attention. The freshly extended Blues boss has a history of switching formations over the years, so it's understandable that English supporters are curious after not seeing this side of the German last year.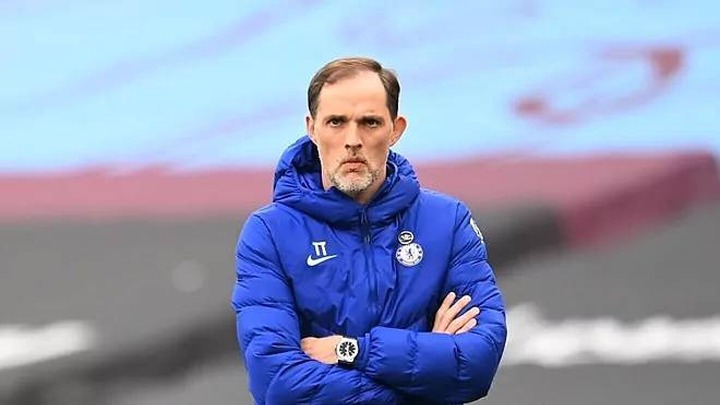 Of course, a large part of Chelsea's possible plans revolves around the players the team signs this summer. At the moment, there is a little buzz about an attacking signing, with most of the attention focused on Jules Kounde, Declan Rice, and Aurelien Tchouameni. Last year, Tuchel threw everything he had into the wall in terms of personnel to see if he could get the attack to click, but nothing worked. As a result, certain formational changes may be in the works for the following season.
This season, could we see Chelsea play in a 3-5-2 formation?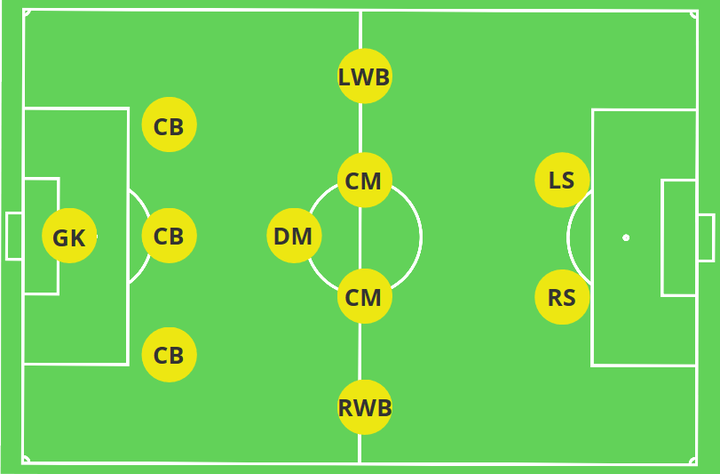 Image: 3-5-2 formation.
The 3-5-2 is one of the most common proposals currently circulating. While there haven't been many signs of it being integrated on Tuchel's end, it has a lot of advantages. It keeps the Blues in a three-at-the-back configuration, which is crucial. The team's willingness to put people like Lewis Baker around the backline in order to make things work throughout the preseason hints to this defensive set-up remaining regardless.
Chelsea has looked better with this shape at the back in recent years, so this is an encouraging indicator. Furthermore, it's a novel concept that might work with or without aggressive additions. As previously said, the Blues appear to be no closer to securing a No. 9. According to his club, Erling Haaland is not for sale, and Romelu Lukaku is not interested in leaving Inter Milan, at least not openly. Tuchel may have to make do with his present center-forward depth, which includes Timo Werner, Tammy Abraham, Armando Broja, and Kai Havertz. Some of these forwards would benefit from a 3-5-2 formation.
The German combo of Havertz and Werner might play off one other in the advanced spaces if Tuchel opts for a more unusual strike force. Werner is particularly effective as a second striker, exploiting space created by one of his teammates. It just so happens that Havertz, his proposed tactical partner, is an expert at locating space. Havertz's role would be comparable to Thomas Muller's, which he has played for Germany numerous times over the years: a free-roaming attacker charged with getting into tight spaces that either make the center backs uncomfortable or drag them out of position. These instructions would also bring the 22-year-old forward, who is one of the Blues' greatest finishers, a lot closer to the goal than he was last season.
READ; What Happened Between Aubameyang & Thomas Tuchel During Arsenal Vs Chelsea Game
The 3-5-2 formation isn't just for teams that don't have any signings. If Marina Granovskaia and Tuchel can tear Lukaku away from the fashion capital, the formation in question will suit him as well. Lukaku has had the most successful time of his career at Inter, where he has played alongside Lautaro Martinez. Despite the fact that Werner and Martinez have significantly different playing styles, Werner and Lukaku's relationship could succeed under Martinez's coaching due to their striking similarities.
All of the focus has been on the front line, but what about the rest of the field? The rest of the formation would remain basically unchanged. The backline is unaffected, the midfield pivot is unaffected, and the wing-backs are unaffected. The elimination of wingers is the only drawback. Chelsea has recently suffered from injury troubles in this position, so this isn't as much of a concern as it could have been in the past. Furthermore, under Tuchel, Callum Hudson-Odoi and Christian Pulisic have demonstrated that they are capable of playing the more restrained role of wingback. Hakim Ziyech is the odd man out here.
Mason Mount is now free. Mount could play the free-flowing advanced midfielder role, completing passing diamonds in build-up play all over the field. Many people will be alarmed at the prospect of the Englishman playing as a lone No. 10, although in principle, his role would be far from that. In fact, it would be basically the same role he now plays in the Blues' starting lineup.
This isn't to suggest that the formational change isn't necessary. Tuchel may have his own thoughts about how to improve the team's offensive difficulties. Werner and Havertz could also make an impact this season, as many fans (including me) anticipate. They've now had a full preseason and know what to expect in the English Premier League this season. As long as Tuchel has the German attacking combination at his disposal, a simple tweak to change this side into a 3-5-2 is always a possibility; the question is whether he'll follow this road or continue trying to squeeze a round peg into a square hole over the forthcoming season.
What is your take on Chelsea using the 3-5-2 formation this season?
Kindly share your comments below. Thank.